Mission Statement
Historic Ellicott City, Inc. (HEC) is a non-profit volunteer organization founded in 1974.  The organization is the result of a merger of Historic Ellicott Mills, Inc.  and the Ellicott City Bicenntenial Association, Inc.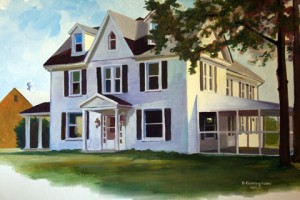 Our mission is to support the preservation and restoration of the Ellicott City Historic District as well as other historic Howard County properties, and to promote a greater awareness of Ellicott City and Howard County history. Our passion for preservation is best known by our annual Decorator Show House. Our accomplishments in restoration and fundraising have led to successful partnerships with property owners in restoring our county's historic homes and preserving them for future generations.
"Temora," an example of graceful Victorian Italiante architecture, stands as a result of extensive restoration by the collaborative efforts of owners (both builder and architect) and the efforts of HEC's participating designers, craftsmen, artisans and volunteers. This Show House  opened to the public in the fall of 1984 as a fundraiser for historic preservation and began an annual Historic Ellicott City tradition that continues to draw crowds today  from all over the region.  Information about all our past Show Houses can be found under the Show Houses in the main menu.
HEC Funded Projects
HEC, Inc. began its preservation efforts with the Ellicott City B&O Railroad Station Museum.  For over 30 years, the Museum was under HEC's administration before relinquishing stewardship in January 2006. Other restoration efforts that followed included: the George Ellicott House (1984), the Thomas Isaac Log Cabin (1987) and the Heritage Orientation Center (1988). The log cabin is the oldest building in the Historic District, and the Heritage Orientation Center–the original Court House–now houses an exhibit designed to educate visitors about the fires, floods and Ellicott Family-the main factors that have shaped our town's history.
HEC has erected welcoming and informational signs in the Historic District, as well as instituted the Bronze Plaque program which installs plaques on historic homes and buildings in the district.  In addition, we were significant financial partners in restoring the New Deal Murals that hang in the Welcome Center at Ellicott City's Main Street.   More recently, HEC has implemented a new grant program aimed at helping to restore historic buildings and homes in Howard County.  To read about several of projects HEC has funded, or helped to fund, click on Learn More.
Officers
President: Peggy Maxson
Vice President: Connie Siegel
Secretary: Karen Learmouth
Treasurer: Joan Becker
Directors
Ed Buffington
Nina Buffington
Chelsea Feruzzi
Heidi Gaasch
Nancy Grabowski
Karen Griffith
Wiley Purkey
Ellen Yancich
Kathy Youkin
Lifetime Honorary Members
Enalee Bounds
Peggy Fisher
Charlotte Holland
Herb Johl
Advisory Council
Ellen Bell
Hope Corrigan
Hank Griffith
JoAnn Horan
Bridgitte Hyde
Andrea Hysmith
Lisa Kittleman
Lorna Ozgun
Past Presidents
Joan M. Becker (2014-2019)
John D. Wafer (2013-2014)
Claire Fulton (2012-2013)
Deborah Kemp (2010-2012)
Charlotte Holland (2005-2009)
Roland Bounds (2003-2005)
Janet Kusterer (1999-2003)
Judith Draper (1995-1999)
Gerald F. Talbert (1991-1995)
Joseph H. Clark (1987-1991)
Robert G. Kelvey (1985-1987)
Enalee E. Bounds (1981-1985)
Herbert H. Johl (1977-1981)
Joann Sheely (1975-1977)
Frederick P. Shultz (1973-1975)